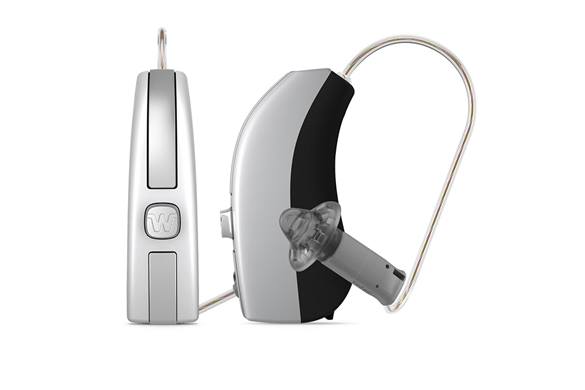 Share this product:
Evoke 330 Fusion 2
To arrange a free consultation, call 0800 292 2338 now.
Full money back guarantee.
If you have any problems within your 30 day trial period, we'll put it right or give you a full refund.
Prices Quoted Are Per Aid and Include VAT
The Widex Evoke 330 Fusion 2 is Widex's exceptional performance model, released in 2018 the Evoke is the newest and most advanced aid currently on the hearing aid market.
The WIDEX EVOKE is the world's only truly intelligent hearing aid.
Every time you interact with Widex EVOKE it improves. Say you personalise your listening experience at your favorite restaurant, for example. EVOKE will learn from that. And Widex will use this anonymous data to keep updating the SoundSense technology in EVOKE, so that it gets even smarter as time passes. In other words, the intelligent EVOKE you purchase becomes smarter tomorrow.
EVOKE knows the difference between classical music and pop music. How a meeting sounds different from a party. And it keeps up with you everywhere- mapping your environment and adjusting accordingly. Since the sounds you're exposed to are always changing, EVOKE automatically reacts to environments around you- smoothly and in real time.
When its noisy you need the hearing aid to filter out anything that can distract you from speech. But in quiet situations you want to hear all the subtle details. EVOKE has built-in controller that sets the optimal sound for different sound environments. Now you can experience whats happening in real life and never miss out.
EVOKE remembers all the volume changes you make and intelligently applies them to similar situations- even if you're in a totally new environment. With its built in SoundSense Adapt technology, its so intelligent you might eventually forget you're wearing it.
SHOW MORE
Styles available: RIC, RITE, BTE, CIC, IIC
10 different colours available.
Compatible devices and apps:
Evoke App- Refine your hearing in real life by listening to two sound profiles with the app and choosing which you prefer: A or B. The more times you do it, the more EVOKE learns about how you want to hear at that moment. You can then save your preferences as a program and use it the next time you are in the same environment. In addition the EVOKE app allows you to Mute or adjust hearing aid volume and use the equalizer to adjust sounds. Create personal programs with your own names, photos and sound adjustments. Add locations to programs and locate your hearing aids if lost.
Tonelink App- Turn your smartphone into a remote control to easily change programs, adjust volume, and mute and change directional focus. TONELINK's simple interface is right at your fingertips, and adjustments become naturally integrated part of daily life. There's no need to carry separate listening devices or to touch the hearing aids.
Com-Dex- for hands free streaming
Com- Dex Remote Mic- for improved audibility in noise
TV Dex- For enjoying TV
Phone Dex 2- For easy landline use
RC Dex- Your remote control
*Released April 2018