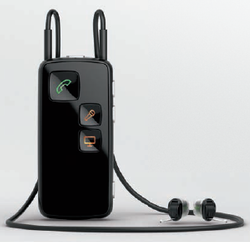 Share this product:
Streamer Pro
To arrange a free consultation, call 0800 292 2338 now.
Full money back guarantee.
If you have any problems within your 30 day trial period, we'll put it right or give you a full refund.
Prices Quoted Are Per Aid and Include VAT
The Streamer Pro is the gateway to the ConnectLine App. It lets Oticon wearers sync their hearing devices with their mobile and other Bluetooth devices. Streamer Pro does all of this without constantly draining your batteries. And it allows you to enjoy the more natural, stereo listening experience that every wireless Oticon hearing device provides.
Fully integrated system- The user is in control. Advanced features such as AutoPriority and AutoConnect ensure that the user can hear and answer phone calls while watching TV.
For Music- Audio can be transmitted directly and securely to both hearing instruments.
Headset for mobiles- Turns the hearing instrument into a high quality headset, thanks to the built in microphone in the top of the streamer.
Telecoil- Built in telecoil for hearing aids with a T setting